A big welcome to readers from
Apartment Therapy Family
. If you would like to follow more of the Golden Gleam's ideas, please like my
Facebook Page
or follow the
Golden_Gleam on Twitter
. For more reading, you may enjoy my
Spring Nature Table
,
Prepare a Meal for Earth Day
, and
Toy Storage Ideas
.
This is The Outdoor Play Party hosted by
Mama Pea Pod
,
Greening Sam and Avery
, and
Learning for Life
. I hope our play party inspires you to get outside more with your kids.
This past weekend I built a sandbox for my daughter. She loves any type of sensory play especially sand, and this will be a great backyard feature to encourage play.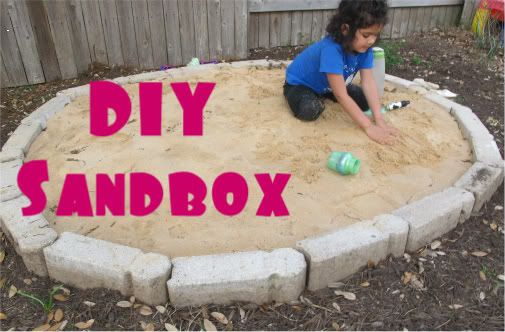 I built the sandbox by using bricks that we had in another part of the yard. As I arranged the bricks I dug out a small trench for them. I didn't use concrete with the bricks because she will not use the sandbox forever. I can take apart the sandbox when she outgrows it. Placing the bricks took about an hour. I didn't use weed protector as a barrier between the sand and dirt. I want her to have the ability to dig a big hole if she wants, but a weed barrier fabric would keep out weeds and prevent dirt and sand from mixing a lot. I bought 10 bags (500 pounds) of play sand from a home improvement store. It cost a little under $50. Dump the sand into the box.
I use weed barrier fabric weighted down with stones to keep cats from using this is a litter box. I like the weed barrier because it allows rain to drain into the sand, and we love to play with wet sand. You may want to use an organic bug repellent to discourage ants and other bugs (especially red ants) from making their home in the sandbox.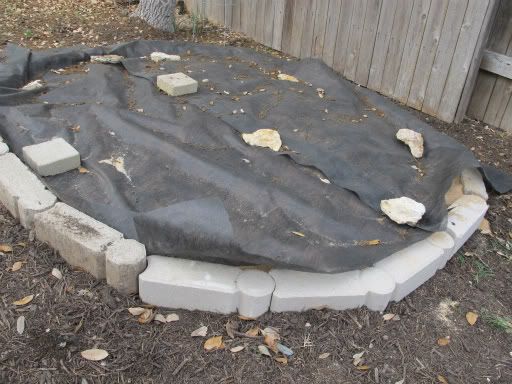 It's not perfect looking, but it sure has been the perfect spot for Miss E to play.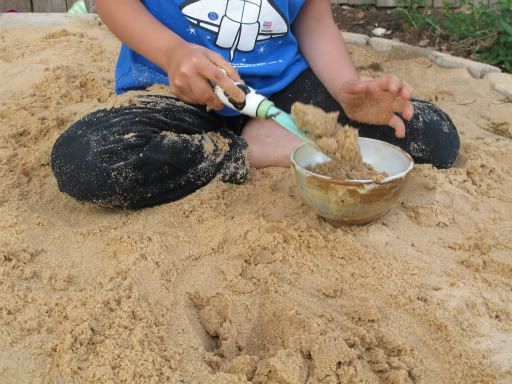 Thank you to the bloggers who linked up to the last Outdoor Play Party. I get so many ideas when I visit your beautiful sites. I enjoyed the thoughtful post from Kim at The Educators' Spin on It about teaching kids about animals by observing them in your backyard. She showed how babies and toddlers can learn so much by taking advantage of the outside world around them.
Now, it's your turn to share your outdoor play ideas with us at The Outdoor Play Party blog hop. If you don't have a blog, please share how you have been playing outside with your kids in a comment.
We'd appreciate it if you included a link back to this post
(either in your post or sidebar) to help us spread the word about the importance (and fun!) of outdoor play! In return, we'll gladly
further share your post on Facebook/ Twitter/ Pinterest.
Please feel free to grab the Outdoor Play Party button from the sidebar and/or include a text link back.
Please note that by contributing you are giving permission for an image and link to your post to be republished if featured.
(If you have been featured, please feel free to grab the 'featured' button from the sidebar.)
Share your ideas for outdoor play activities with us every other week! The linky goes live every second Friday at 12:01 GMT+1.