Pin It
We have been working with the colors of the rainbow for our Color Theme this month. We created more rainbows to decorate our windows for St. Patrick's Day. We added shamrocks to our window art, too.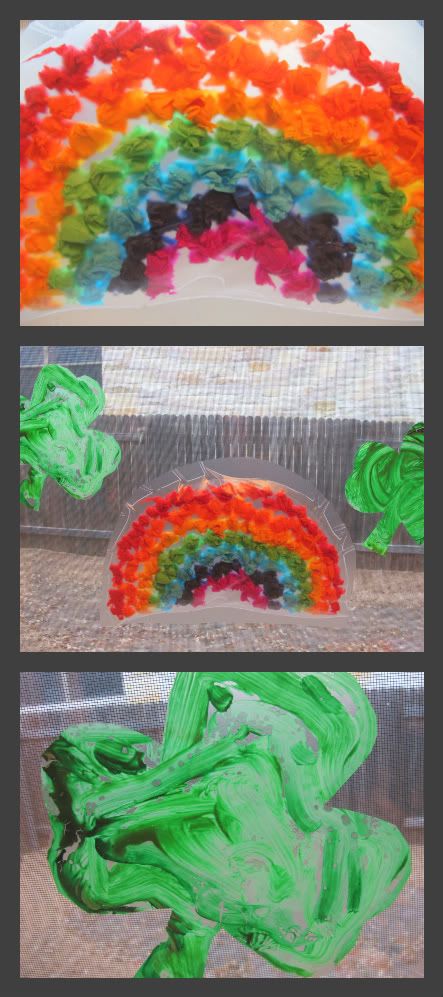 First, we created a

rainbow

using

contact paper

and

tissue paper

in the colors of the rainbow. Make and Takes has a an ingenious method for making rainbows by starting with a circle. We used this method to make our rainbows. I cut out a large circle from a piece of contact paper. We lined the outer edge of the circle with crushed bits of red tissue paper. Then we followed that line to make the consecutive colors of the rainbow.
This activity takes some patience because it takes some time to ball up the small pieces of tissue paper. Despite the length of time, my daughter seemed to be soothed by using her fingers to squish up the paper and enjoyed the repetitive process. For younger children, you can ball up the tissue paper beforehand, and allow them to create their own design on the contact paper with the colors of the rainbow.
Cut the circle in half, and adhere another piece of contact paper on top of the tissue paper. Cut around the contact paper by leaving about an inch around the edge. Adhere the rainbow on a window.
You will need

green paint, contact paper,

a shamrock template, and a permanent marker

to create

shamrock window clings

.
Trace the shamrock onto the contact paper with a permanent marker. Paint the shamrock with green paint. It's okay if the children paint outside the lines because you will cut out the shamrock. I gave my daughter different shades of green to paint the shamrocks. We used tempera paint, and it doesn't paint evenly and peels a little after drying, but I find that this allows more light to come through making it a more beautiful decoration. You can use acrylics, and they may paint more smoothly and not peel. Allow to dry, cut out shape, and peel away the paper lining. Stick to window.
More Window Decorations for St. Patrick's Day!
Using tissue paper tissue paper to create rainbows has been around for awhile. Sew Natural created rainbow with tissue paper, glue, and paper. See What We Did Today made shining rainbows using square, flat tissue paper and contact paper. Play Away Online shows how to use bleeding tissue paper on a paper plate. She made umbrellas but this could be adapted to make a rainbow.
Here are some other shamrock window decorations. Hands on as We Grow created a green collage on contact paper to make beautiful shamrocks. Love in the Suburbs makes gorgeous shamrocks that would be perfect craft for older kids. Crafts by Amanda gives a tutorial on how to make St. Patrick's Day window clings using puffy paint.
Happy St. Patrick's Day!
This post is featured at The Sunday Showcase.
Pin It