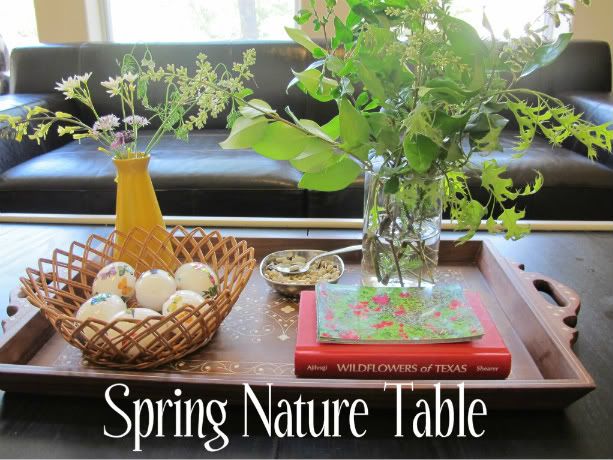 Since Spring is in full bloom here in Central Texas, we created a new Nature Table display to welcome the new season. We keep the items on a tray on our coffee table in our living room. It is kept at my child's level to allow for play and exploration. Placing the items on a tray, makes it easy to move it to another location when we have younger guests visit our home.
Items on the Nature Table
A bouquet of flowers arranged by Miss E using flowers found in our yard. Wildflowers are a hallmark of Spring in Central Texas.
A vase of stems trimmed from trees and bushes in our yard. The coming of Spring brings new green leaves adorning the trees.
A basket of eggs decorated with stickers of animals that lay eggs. Go here to learn how to make blown eggs decorated with stickers. Baby animals are often born in the Spring.
Photographs of wildflowers and a book about wildflowers. I don't encourage my daughter to pick native wildflowers, so we have taken pictures of them.
A bowl of seeds. In the Spring, we plant seeds in our garden.
My daughter has been thrilled with the items on this nature table. By far, her favorite items are the eggs, and she has engaged in imaginative play with them creating nests and acting out the birth of baby animals.
The nature table encourages development by giving her opportunity to arrange, sort, pretend, scoop, pour, match, create, and tend.

Here is our Autumn Nature Table and Winter Nature Table.
If you have enjoyed this post, please consider liking The Golden Gleam's Facebook Page or following @Golden_Gleam on Twitter so you can be up to date on all of our new posts.
This post is shared at It's Playtime , Weekly Kids Co-Op and the All Year Round Spring Carnival.