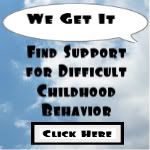 My husband and I were looking through our photo albums, and we noticed that Miss E was touching or holding something in almost every single picture. Since she has been a baby, she has explored the world and been soothed by her sense of touch. As a newborn, she was soothed by nursing, and touching my ears still calms her at 4 1/2 years old. She delights in getting her hands dirty when playing in mud or being covered in paint after an art project.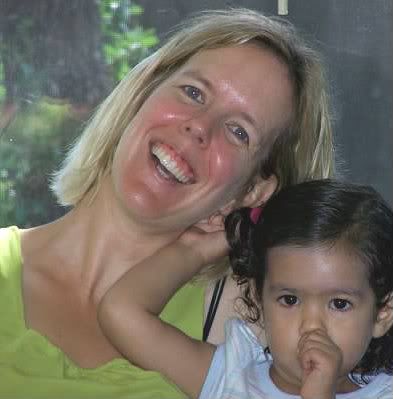 I think it's normal for young children to want to touch everything, but it can be a behavior that drives me nuts too. Shopping mall trips usually cause me to feel like pulling out my hair. She pulls clothes off hangers, and I feel badly that I can't pick up the mess because I am trying to keep up with her next move. She reaches for breakable items, and I envision her getting cut with broken glass. She rolls around on the carpeting probably covering herself in germs from thousands of dirty shoes.
Adjusting my expectations has helped make it easier to accept her need to touch (almost) everything.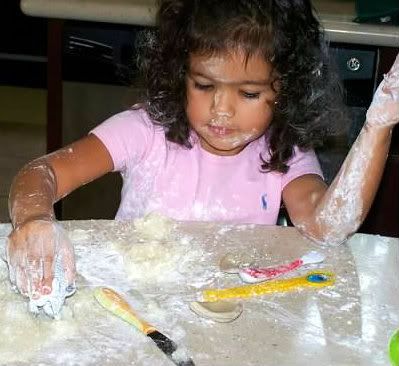 Changed Expectations
Our home isn't going to be a decorator's showcase. Anything that I don't want her touching needs to be out of reach or put away. I want to encourage her curiosity and sense of play at home, and the items at her level are for her to touch. When she was younger, childproof doorknob covers and baby gates kept her out of rooms where we didn't want her playing.
Before our daughter was born, I was against cosleeping. I soon discovered she could not fall asleep without touching me. When she was ready at almost four years old, we taught her to fall asleep on her own.
Shopping is going to be a challenge. When she was younger, she needed to be in a shopping cart or stroller. Eating something crunchy or sweet helps make grocery trips more pleasant. We avoid shopping with her, but it's not always possible.
Mealtimes are messy. She is a picky eater, but I have noticed when she is allowed to pick up her food with her hands, she is more likely to eat it. Her face is covered in more food than her peers, and I wonder if feeling the food on her face makes her more comfortable eating it. Thankfully, she gets less messy as she gets older, but she is still pretty messy at 4 1/2 years old. At least, she helps clean up the mess, now.
Keep to a sleep schedule. When she is sleep deprived or it's close to bedtime, it is much harder for her to follow directions about not touching. At times, she will just start touching everything if she is too tired. We start winding down our day an hour before bedtime with a bath, walk, board games, or easy craft.
Constant reminding of no touching rules. I feel like a broken record a lot, but I try not to lose patience when I need to redirect her behavior. She has a habit of touching the walls, and it irriates me because I don't want dirty walls. Despite the irritation, I remind her calmly (most of the time).
Be aware of temperature. She is more likely to sleep through the night at a constant warm temperature. We keep our thermostat at 80 degrees F in the summer, and in the winter, she has warm pajamas and blankets. Blankets and loose coverings aren't advised for babies, so dress a baby with warm pajamas or sleepsack. Some children may like it cooler, though.
Miss E responds well to high sensory activities. Activities where she can immerse her hands or whole body in a material and explore it with her hands, objects, or toys. When she has had her need to touch met through play she is less likely to touch things she shouldn't.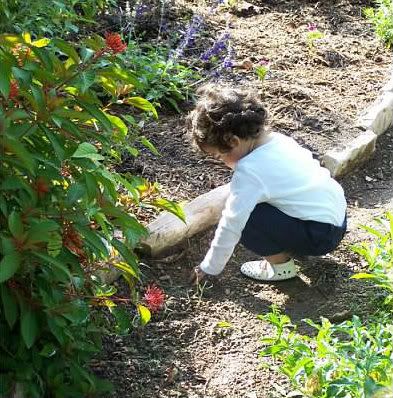 Activities for Kids who Like to Touch Everything
Sand Play - We just built a sandbox, but before that we played in the sand at neighborhood playgrounds.
Cloud Dough - This is moldable sand you can make at home with a delightful texture.
Messy Play - Be more open to your child getting messy with their play. Miss E loves playing with mud.
Explore literacy through sensory story boxes.
Outdoor Play - She has always been calmer when outdoors, so I make it a priority to get outside everyday.
Water Play - Baths, fountain parks, swimming are all fun activities for my daughter.
Petting Animals - Miss E adores animals, especially cats and dogs. Petting our cat is relaxing, and she loves petting her Grammy and Frampa's dogs, too.
Cooking - When she was a toddler, I handed her scraps of vegetables and food to play with while I cooked. As I bake, I give her scoops of ingredients to stir, pour, and mix in her own bowls. She especially loves baking cookies.
Sensory play is wonderful for babies and toddlers too. Growing a Jeweled Rose shares baby and toddler sensory play ideas.
Creative with Kids is an incredible resource for more sensory play activities.
While it can be difficult to manage a child who has a high need to touch everything, I have found this behavior can be beneficial to my daughter. I recognize her need to touch things shows she is curious, and she uses her hands and whole body to make observations and learn about objects. I noticed that her fine motor skills developed earlier than her peers because she is building hand and finger muscle strength by manipulating objects she is touching with her fingers.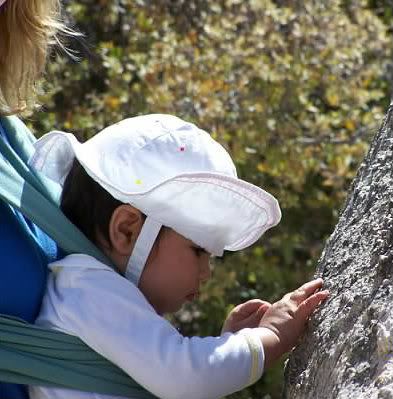 I am not definitely not a perfect parent, and her constant need to touch can overwhelm me, at times. If I keep realistic expectations of my daughter based on her age and personality along with giving her lots of opportunity to explore and play through her sense of touch, we are more likely to have more smiles than tears.
Do you have a child who likes to touch everything? What activities does your child, who likes to touch everything, like to do? Please share your thoughts and experiences in the comment section below.
Thank you for joining this week's
We Get It: Support for Difficult Childhood Behavior
. Next week, Kristin from
Sense of Wonder
will be sharing her reflections and strategies for parenting her determined teenage daughter. On her blog, she has written about
loving principles of childcare
for babies and toddlers. Please come back next week for more parental support for difficult childhood behavior.
This post is linked up to
Tuesday Tots
and the
Weekly Kids Co-Op
.