As part of the
Virtual Book Club for Kids
, Miss E and I read
The Very Quiet Cricket
by Eric Carle. I created an
I Spy Jar
for my daughter to hunt for the bug characters in the book.
I filled a jar with dyed green rice, artificial flowers, and pictures of bugs in the book. The pictures were laminated with clear packaging tape to give more durability. I filled the jar a little more than 3/4 full with rice to allow room to shake and move the rice and pictures. If your child is likely to dump out the contents, seal the lid shut with packaging tape.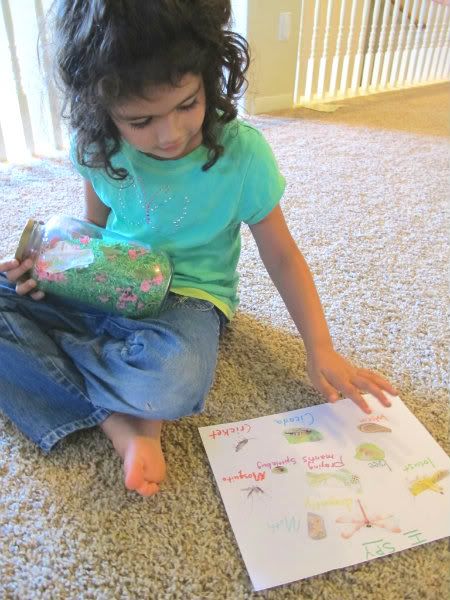 Miss E and I made an I Spy worksheet to help hunt for the bugs. She glued the pictures onto a sheet of a paper and we wrote the names of each bug next to it's picture. She helped identify and write the first letters.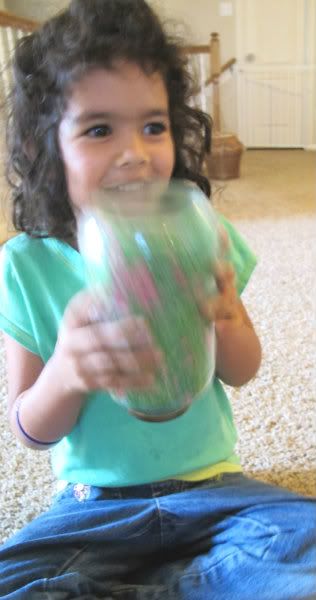 The I Spy Jar has been endlessly entertaining for Miss E. She gets a kick out of shaking the jar and looking for the bugs. This activity supports reading comprehension since children learn the characters in the story. Writing words together and identifying first sounds and letters in words fosters early literacy skills. Identifying bug names builds science knowledge. Moving, holding, and shaking the jar helps kids develop gross motor skills and hand and arm strength.
My one complaint of this activity is the pictures tend to pile up together probably because of the static caused by all the shaking. This is easily remedied by taking out the pictures and mixing them up again in the jar. This may not happen if they were glued to thicker paper or cardboard. Plastic toy bugs would probably be the best, but the pictures allow for a budget friendly alternative. In addition, I suggest a wider mouthed jar because it can be hard to get the pictures out of a smaller opening.
Our I Spy Jar is just one of many other fabulous activities for the The Very Quiet Cricket Virtual Book Club. Check out the links below for other great ideas. If you have a blog post with an idea based on the book, please share it in the blog hop below.
This post is shared at
For the Kids Fridays
and
It's Playtime!