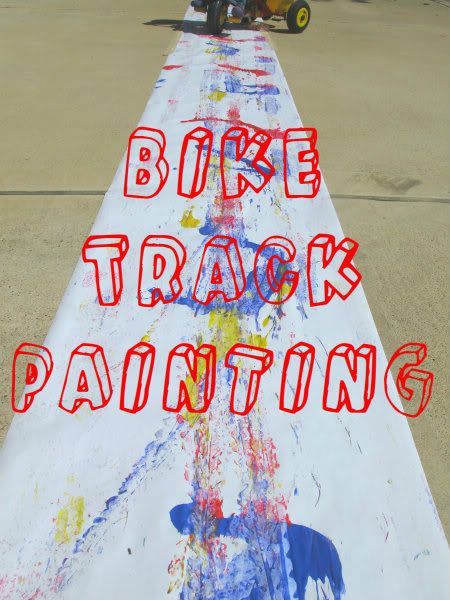 Every other Friday, I feature an activity that was inspired by another blogger. Bean Sprouts Preschool shared an awesome BIG art idea at one of our past
Outdoor Play Parties
. They created a history making mural for their preschool class with bikes! Head on over to the Bean Sprouts Preschool blog to see their
bike painting masterpiece
.
We created our own paint filled bike track on our driveway.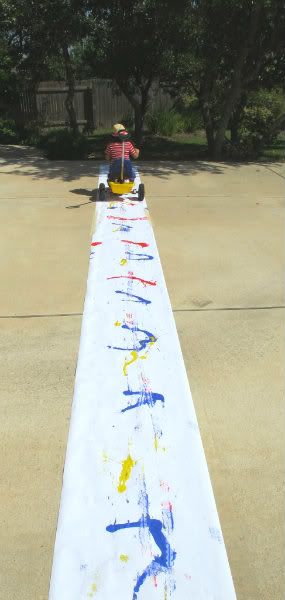 Miss E loves to paint and loves to bike, so this activity was just right for her. I lost count how many times she pedaled across the paint track.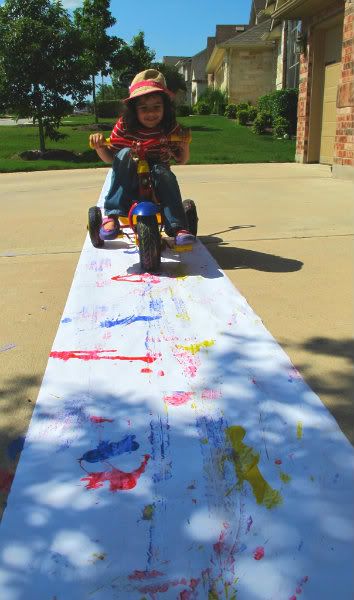 While Miss E had a blast with this activity, I will warn parents that this activity is messy and will get paint all over the driveway. Our washable paint did not rinse off the driveway with just water, and I had to scrub it with a lemon juice and baking soda solution. Even with the scrubbing, there are still traces of paint on the driveway, but I am hopeful after few rain showers, the paint will completely wash away. So only do this activity if you know your paint will not stain your driveway or if you don't care if paint stains your driveway.
If you liked this BIG ART activity, check out our ball painting.
This post is linked up to the Kids Co-Op Linky.