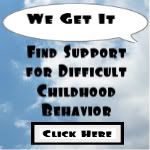 For this week's installment of We Get It Parenting, I am thrilled to have Shawn from Awesomely Awake guest posting about temper tantrums. Shawn is a mom of twin girls who inspires parents to live from the soul "with your eyes and heart wide open."
As any parent knows managing temper tantrums is a challenge, and it's especially taxing when you have a child who is more prone to anger and temper tantrums. If you are at your wit's end when it comes to temper tantrums, Shawn's peaceful parenting approach to temper tantrums is a must read.
********************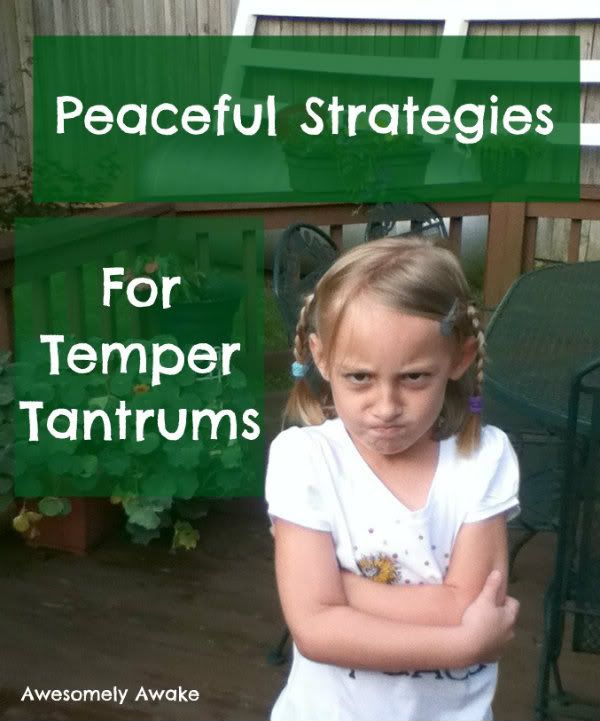 One of my twin daughters goes through phases of being easily frustrated, throws temper tantrums and blames others.
These phases are some of the more difficult moments of our parenting days.
Let me first say that when we first began dealing with these issues, I didn't know what to do except what I had learned from my own childhood.
Power. Control. Our way or the highway. Time outs in her room. Taking away toys, privileges. and other things I could use to control her behavior.
None of it worked.
I realized there had to be another way.
I read everything I could get my hands on and I felt empowered to do things differently.
This does not mean we did things perfectly then and nor do I now. These are what we strive to do each time she hits a rough patch.
SERVE AS A COACH
: Emotions are tough, especially for a very passionate young girl. Everything seems bigger than it is. But, isn't that true for adults as well? How do you know what to do with those emotions? Help her understand them, help her honor them, help her to release them and move to the next one with ease.
DEFINE PEACE
: If you don't have language for what it feels like to be at peace, it's hard to return to that state.
Inner peace
is something that feels good and we have to show children -- especially easily frustrated children -- how to know that feeling inside and how to return to it time and time again.
OFFER PEACE TOOLS
: In our house,we have a
peace corner
. It's mostly for her but we all use it. We all get mad and that's the place we can retreat to when things get hot and yucky. I use it to meditate in the mornings. She uses it to draw or do homework. Her twin uses it to just hang out.
LOVE HER
: It's easy to give a child acting this way the impression that we don't love her because we have to constantly be working with her, sometimes in a negative way. When things get rough, and they do sometimes, it's always good to remember to tell her that you love her very much, just not her actions. I have also found that a compassionate, loving hug is the most reliable tool we can offer.
TAKE CARE OF MYSELF
: This is so, so important. If I have had enough sleep, if I feel organized, if I have had the time I need to do what I need to do for me, I am more patient for her. If my needs are met, I can meet her needs with ease.
GIVE HER MORE CONTROL
: One day, she ate four crackers for breakfast. Another day she walked to the corner by herself. The more freedom we give her, the less she tries to pull away, I've noticed. She needs responsibility, her own ideas to feel good enough and to be a leader. We have to gift her with this more often than we remember to do so.
Dealing with tantrums and anger with children is not easy. But having tools to draw upon can make getting through a tough phase much easier.
********
Thank you to Shawn from Awesomely Awake for this thoughtful piece on parenting a child who has a lot of temper tantrums.
For more parenting posts about challenging issues, go to the We Get It page. Next week's post about toy gun play is brought to you by Allison from No Time for Flashcards.
This post is linked up to Tuesday Tots.