This story starts with a little girl who was diagnosed with cancer and survived it to live a cancer free life. That little girl grew up to be a mother of three beautiful children and blogs at
Mama Smiles
. MaryAnn is the survivor and the heart behind the
Small Hands Creating Hope
Ebook.
I, along with dozens of other bloggers for kids, joined forces with MaryAnn to create the
Small Hands Creating Hope
Ebook. We each contributed a kids' project for the book around the theme of hope for those who have been affected by cancer. The book is a fundraiser for the American Cancer Society.
Miss E and I created a yellow
mandala
for the Ebook. Mandalas have a spiritual significance for many religions, and a spiritual connection can provide hope. My wish is that the pattern and the color will bring a bit of peace and light to those who view it. I hope that the mandala we created will find a home in a hospital or care facility for those who are facing cancer.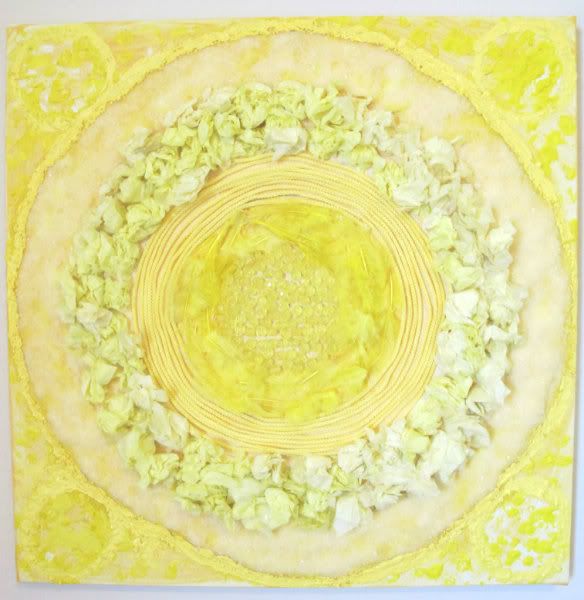 I created the shape of the mandala by tracing concentric circles on canvas. We used beads, feathers, rope, crushed tissue paper, colored salt, melted crayon, and acrylic paint to fill in the circles.
So, here's how you can help support this project. For a $15 donation to the American Cancer Society, you will receive a FREE copy of the Small Hands Creating Hope Ebook.
Preview of Small Hands Creating Hope Ebook
When you make your donation by clicking the button below, you will receive a link to download the eBook. If you want a printed version of the book, you will receive a link for purchasing information for it. If you have trouble linking to the eBook once you have made your $15 donation to the ACS, please email smallhandsproject at gmail dot com.
Thank you to all my fellow bloggers who collaborated to create and support this Ebook. Their stories of cancer and projects are beautiful and inspiring. Below is the schedule for their posts about their projects and the eBook.
14 May Mama Smiles
15 May Artsy Craftsy Mom and Rainbows Within Reach
16 May B. Inspired, Mama!
17 May Rainy Day Mum and Imagination Soup
18 May Inspiration Laboratories
19 May Experimenting Mom
20 May Mama Mia's Heart2Heart
21 May NurtureStore
22 May Living Montessori Now
23 May Mess for Less
24 May Having Fun at Home and CraftoArt
25 May Outlaw Mom
26 May Angelique Felix and Sense of Wonder
27 May Sun Hats & Wellie Boots
28 May Duck Duck Octopus
29 May Smiling like Sunshine
30 May Mommy with Selective Memory
31 May One Perfect Day
1 June The Educators' Spin On It
2 June Kids Stuff World
3 June Rainy Day Mum
4 June Teach Preschool
5 June Dirt and Boogers
6 June Creative Connections for Kids and The Golden Gleam
7 June Montessori Tidbits
8 June Mom to 2 Posh Lil Divas
9 June The Iowa Farmer's Wife
10 June Scribble Doodle and Draw
11 June Learn with Play
12 June Kitchen Counter Chronicles
13 June CRAYON Freckles
14 June Glittering Muffins
15 June Wise Owl Factory
16 June Crafty Maa
18 June Lessons Learnt Journal20 June Growing a Jeweled Rose21 June Growing Play23 June JDaniel4′s Mom