50 Ways to Create Art Outdoors with Kids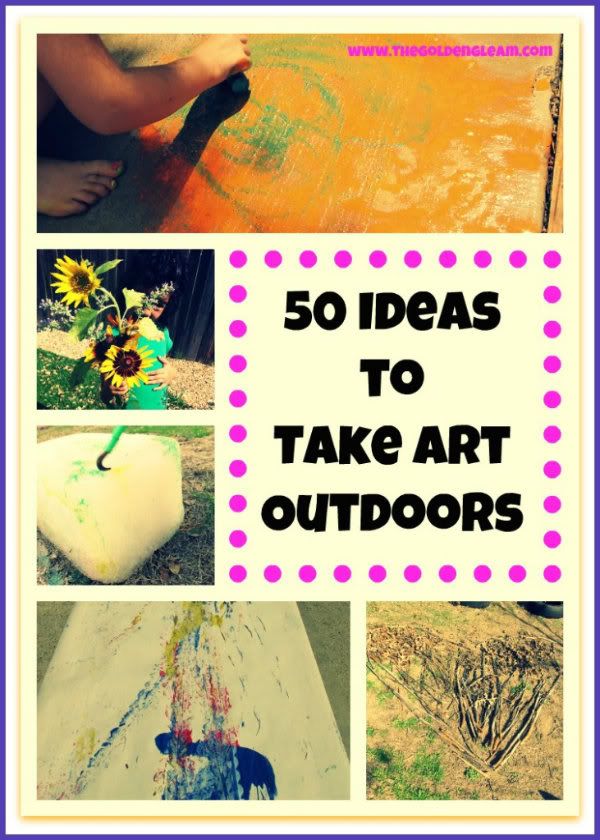 Build a sandcastle.
Arrange a bouquet from garden flowers.
Paint a mural on a sheet.
Make pour paint art.
Bring the art easel to the patio.
Create land art inspired by an artist.
Bring messy spray painting outdoors.
Play and explore with colored water.
Use wet chalk on the driveway.
Create stick art animals.
Paint a paper mural.
Use different art materials like squeeze bottle and plungers to paint.
Decorate your garden with a sunshine flag.
Combine craft and nature materials to make a collage.
Create nature paintings.
Use a squirt bottle to paint.
Build a land art heart.
Compose heavy metal music.
Roll paint covered balls down a slide.
Get messy with body painting.
Create fizzing art.
Paint with shaving foam.
Build a fairy garden.
Make a painting on a cardboard canvas.
Put together an outdoor art supply toolbox.
Use colorful mud to paint.
Create leaf art on a tree.
Use a tree branch for weaving.
Decorate your steps with chalk.
Take crayons and paper outside to draw observations of nature.
Make rain art.
Set up a DIY activity table.
Bring watercolor paper outdoors.
Play Paintman.
Build a tin can forrest.
Thank you to the bloggers who inspire us to take art outdoors!
It's time again for another Outdoor Play Party! Share with us how you have been playing outdoors with your kids.