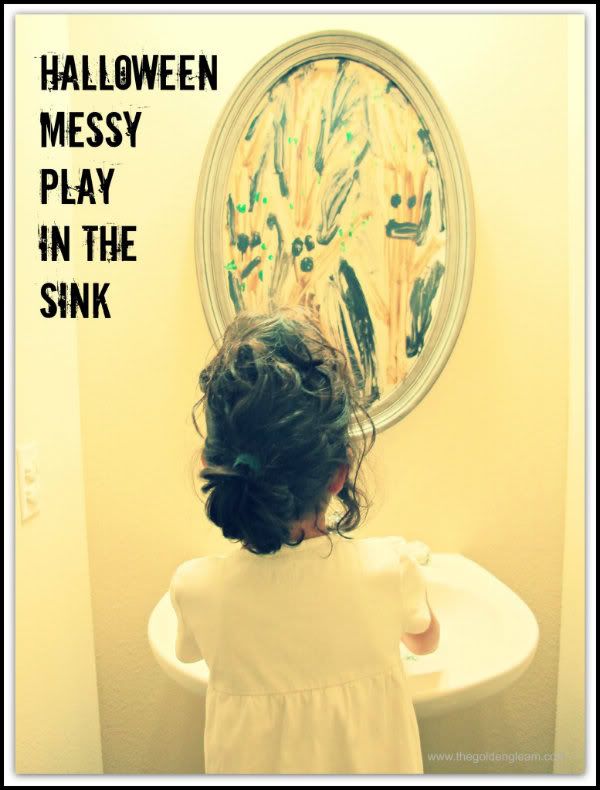 BOO! Ready for more Halloween Messy Play in the Sink?!
It's time again for Growing a Jeweled Rose and I to share more spooky ideas for playing in your bath and sink. And all that scary mess is easy to clean up because it's contained in the bath or sink.
This week it's all about ghosts. Growing a Jeweled Rose shares ghost play in the bath, and our ghost activity takes place in the sink.
We made ice ghosts to play with in the sink.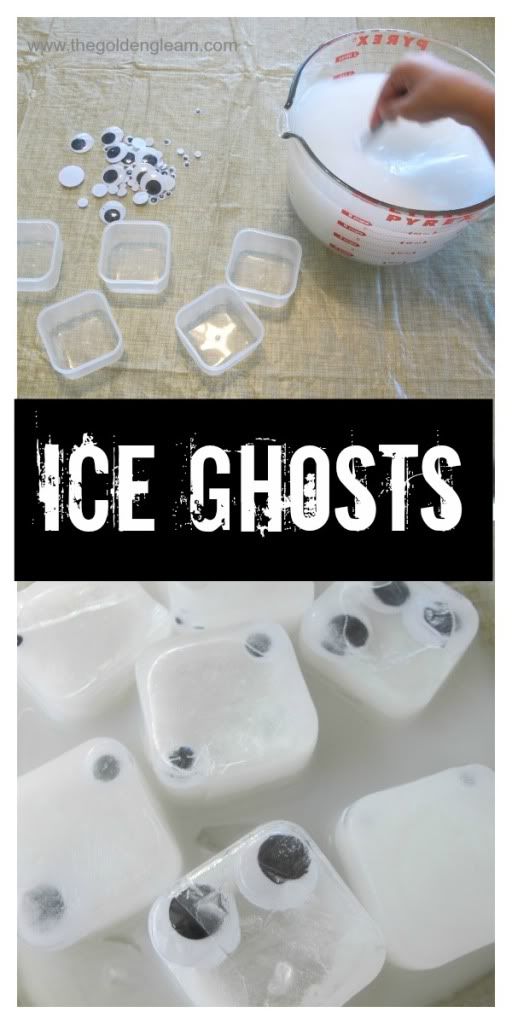 How to Make Ice Ghosts
Color water in a bowl with a squeeze or two of white tempera paint. Stir.
Pour water in ice cube tray or small containers only filling about 1/2 full.
Place googly eyes in each square or container.
Place in freezer and allow to freeze.
Cover top of frozen ghosts with more water.
Allow time to freeze.
Take ghosts out of freezer and allow to defrost just a bit. This makes it a little easier to remove them from containers.
While the ghosts were in the freezer, Miss E and I created a haunted forest for the ghosts in the bathroom. We used bath paint (1/2 liquid dish soap, 1/2 washable tempera paint). I painted the mirror, and my daughter painted the sink. Allow time for paint to dry.
Now, it's time to play with ice ghosts in the sink. Make sure to plug your sink, so the googly eyes don't clog your drain.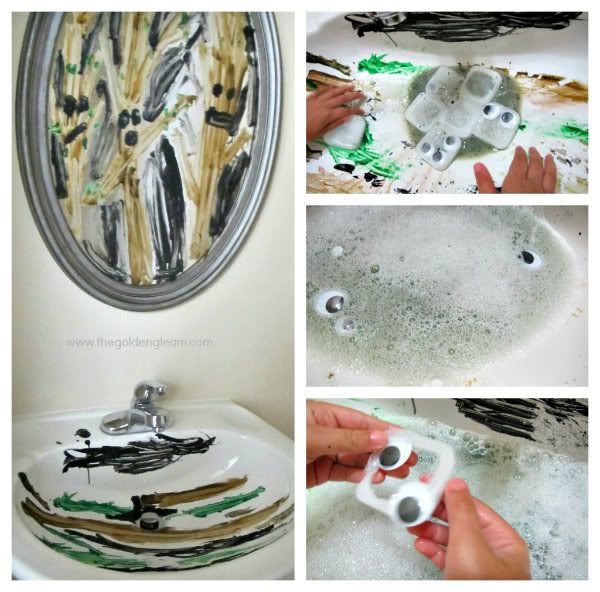 Miss E enjoyed swirling the ghosts around in the sink. She pretended the ghosts made the forest disappear. The painted forest is smeared away by the ice. At some point, you may want to add water.
A big part of the fun was the ice break apart. She even had fun when the ghosts melted, and she played with the googly eyes in the soapy water for a long time.
You won't be haunted by a messy bathroom
once the ghost activity is finished since all of it simply wipes down and the paint washes down the drain.
Remember to fish out the googly eyes before draining the water.
Please test an area of your sink to make sure the paint doesn't stain it. My sink didn't stain, but your's could react differently.
Don't forget to see the
creative ghost play
Growing a Jeweled Rose made in her bath.
More Messy Play in the Bath and Sink Activities